Alan Parsons was recently a special guest on Adam Carolla's podcast, listen to the show HERE.
Freeform Rock DJ legend, Jim Ladd, sits down with legendary Producer, Engineer and Recording Artist, Alan Parsons, to talk about Alan's days working at Abbey Road Studios and with The Beatles.
Alan Parsons will be hosting a very special Guitar Center Sessions event this Wednesday at Guitar Center in Hollywood.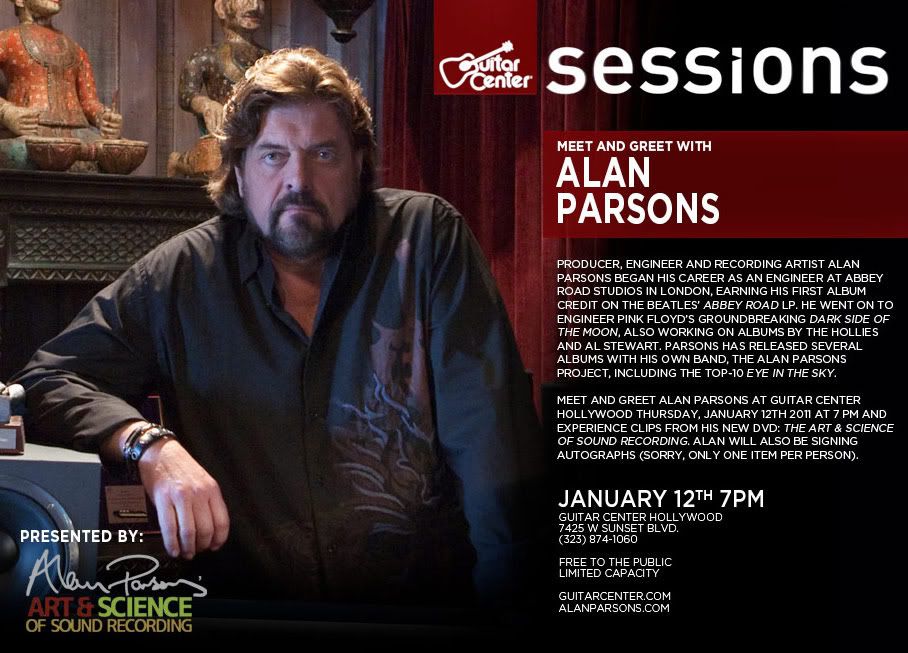 Celebrated musician, multi-Platinum producer and recording engineer
Alan Parsons
will join award-winning photographer, author, and moderator
Mr. Bonzai
for a Fireside Chat at Winter NAMM, Saturday afternoon at 3:15 on The Stage in the NAMM Hot Zone.
Parsons is renowned for dozens of top album projects, notably assisting in the making of The Beatles' "Abbey Road" and "Let It Be," as well as engineering Pink Floyd's "The Dark Side of the Moon," for which Pink Floyd credit him as an important contributor. Parsons' own group, The Alan Parsons Project, as well as his subsequent successful solo recordings, have also been recognized for their inventiveness and sonic excellence.
Parsons joins Mr. Bonzai on The Stage at NAMM, in a new setting complete with overstuffed easy chairs and a blazing video fireplace.  Parsons will speak about his formative years at Abbey Road and his subsequent success as both a recording artist and producer/engineer.  He will also explore his "Art and Science of Sound Recording," a groundbreaking video series on music production, now available as downloads and DVDs at:
What: Mr. Bonzai Presents Fireside Chat with Alan Parsons
Where: Winter NAMM, The Stage (Room 204B), 3:15 PM, January 14, 2011.
Join Alan Parsons on November 18th in West Los Angeles for a very special Guitar Center Sessions event. The night will feature a live performance, discussions and examples from his new DVD release The Art and Science of Sound Recording.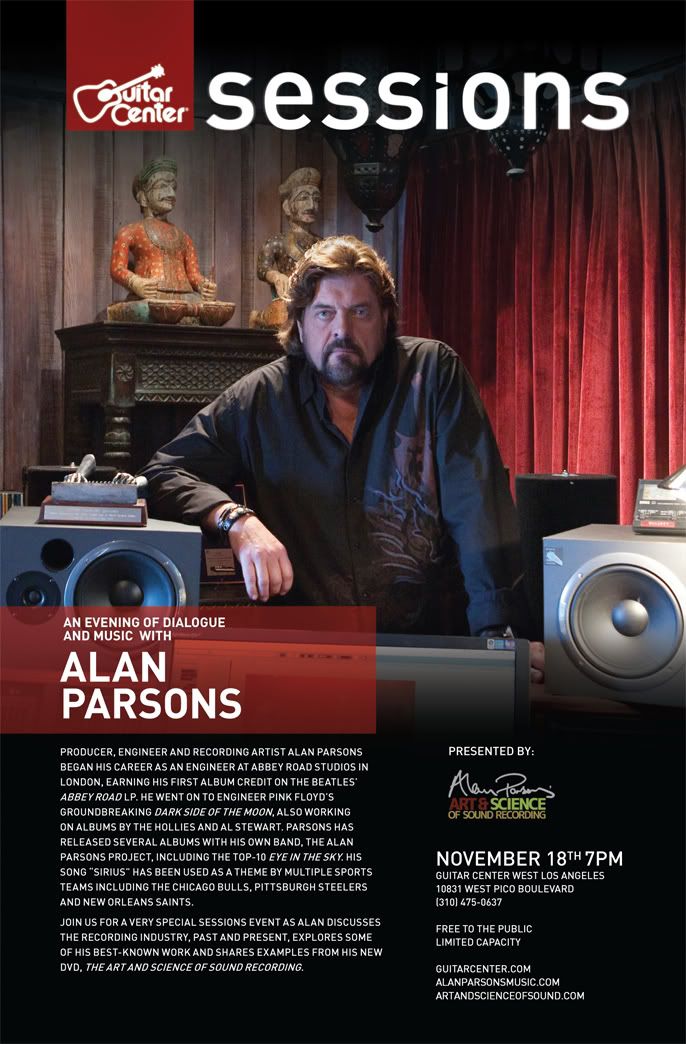 Join Alan Parsons on November 3rd in San Francisco for a very special Guitar Center Sessions event. Click HERE to download the flyer.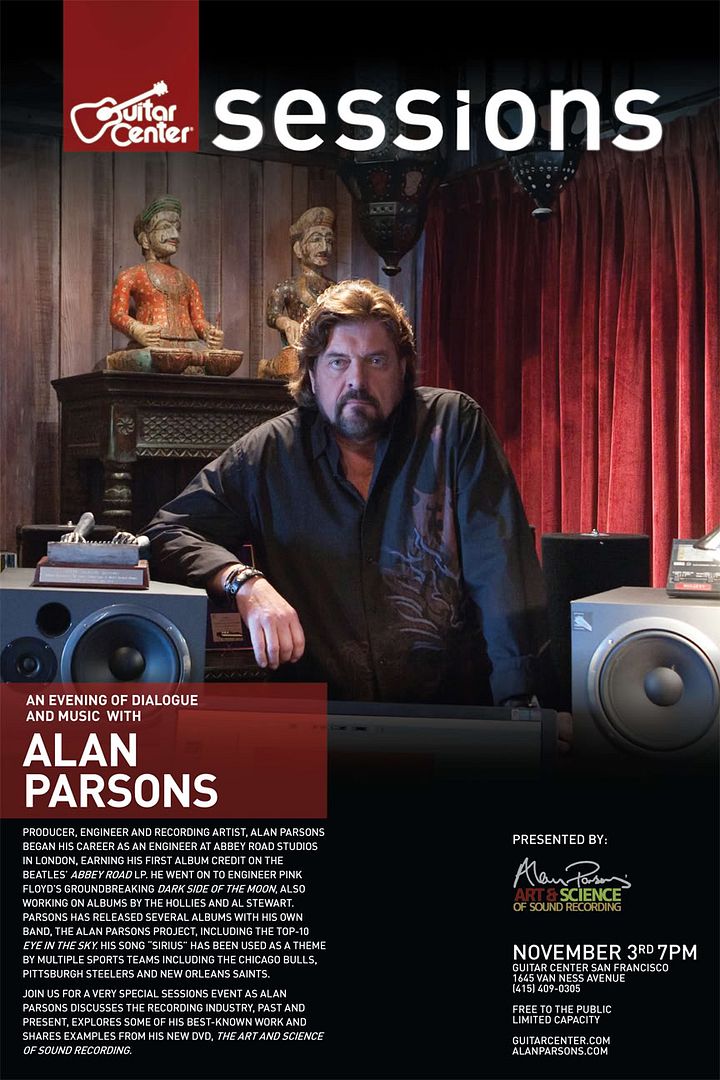 Alan Parsons is now featured in the new issue of Music Connection Magazine. Click HERE to read the digital copy.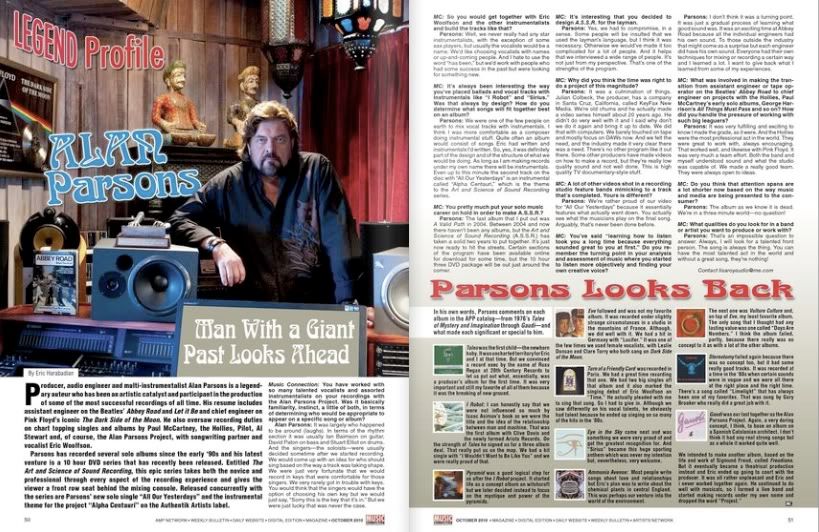 Check out a new article posted by Reuters regarding the new Alan Parsons DVD series The Art And Science Of Sound Recording and last night's event at the Grammy Museum.
Also, click HERE to view pictures on Facebook from the Grammy Museum.
Join us tonight for a special Alan Parsons Legends Series Interview. Click HERE to stream the event tonight at 7pm.