Alan Parsons was recently a special guest on Adam Carolla's podcast, listen to the show HERE.
Freeform Rock DJ legend, Jim Ladd, sits down with legendary Producer, Engineer and Recording Artist, Alan Parsons, to talk about Alan's days working at Abbey Road Studios and with The Beatles.
Across The Sun will be playing at this year's SXSW festival in Austin, TX at the New England Metal & Hardcore Fest Does Austin (3.18.2011 – Emo's Annex)
Be sure to check out Eventful and BandsInTown to stay updated on our artists latest tour dates. Simply visit the website and search by artist to find out if they are playing in your town soon, both sites have applications for your mobile device so it's easy to keep tabs on your favorite Authentik Artist!
Below are just a handful of dates from some of our artists.
Alan Parsons
3.4.2011 -"THE RAILHEAD" at Boulder Station Casino-Las Vegas, Nevada
5.6.2011 – Orfeo Stadium – Cordoba Province, Argentina
5.7 – 5.8.2011 – Aries Gran Rex Theater – Buenos Aries, Argentina
Justine Bennett
2.8.2011 – Room 5 Lounge – Los Angeles, CA
2.14.2011 – Ghengis Cohen – Los Angeles, CA
2.26.2011 – Blue Green Showcase Revolver Studios – Los Angeles, CA
Matt Stansberry
2.19.2011 – ACM@UCO Performance Lab – Oklahoma City, OK
3.4.2011 – Private Booking – Edmond, OK
3.11.2011 – Martini Lounge – Edmond, OK
We Are The Arsenal
02.15.2011- Slidebar-OC Music Awards Showcase-Fullerton, CA
Pete Kilpatrick Band
2.10 – 2.12.2011 – Biathalon World Cup Festival – Fort Kent, ME
2.18.2011 – Café 939 @ Berklee College – Boston, MA
2.19-2.20.2011 – Cranmore Mountain Ski Resort – North Conway, NH
The Break Mission
2.17.2011 – Cameo Gallery – Williamsburg, Brooklyn, NY
Hands Like Glass
2.12.2011 – The Scout Hut – Kerman, CA
2.16.2011 – The Underground – Mesa, AZ
4.02.2011 – Santa Clarita Sports Complex – Santa Clarita, CA
Across the Sun
3.18.2011 – Emo's Annex – Austin, TX
3.19.2011 – The Conservatory – Oklahoma City, OK
3.20.2011 – Media Star Entertainment Hall – Shreveport, LA
Meeting of Important People
3.18.2011 – The Andy Warhol Museum – Pittsburg, PA
Ghostess is now featured as an artist to watch on Clear Channel's NEW! Discover & Uncover.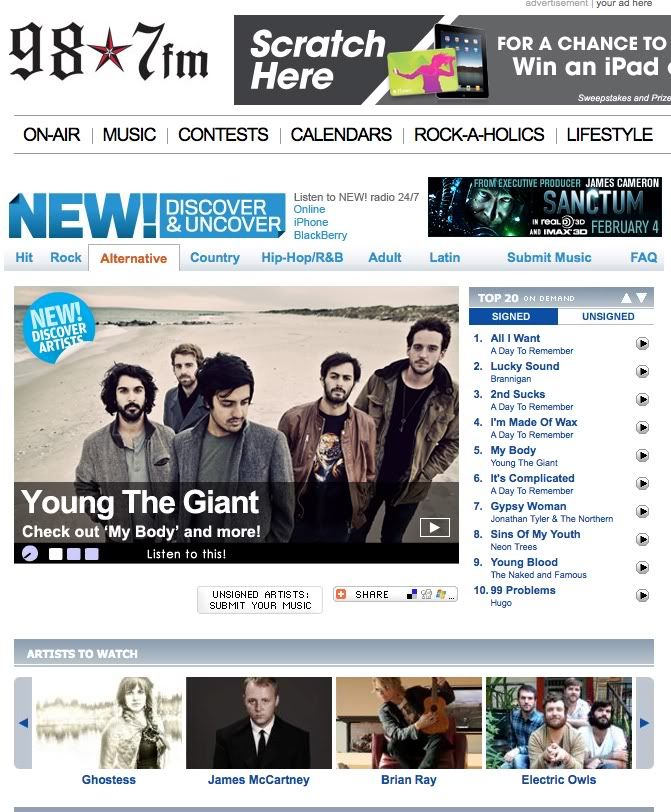 Music from The Break Mission is now featured in a new skate video from Push.CA
Heyday Footwear has exclusively posted the album cover for IAMMEDIC's new single "We Love You LA" on their official Facebook page. Be sure to follow IAMMEDIC on Facebook to stay updated on the latest news and music.
Come On, Come On will be featured in all Roxy retail stores across North America and have been placed in a new Roxy online video HERE.
The New EP from Ghostess is now available today on iTunes for only $4.95. Click HERE to purchase the EP.
1. The Only Time A City's Clean
2. Soleil
3. Pick Up The Book
4. Desert Nights
5. I Know