iTunes is running a feature called Past Idols on their front page this week and spotlights Brandon Roger's latest album Automatic for the special price of $7.99 Click here to purchase the record and visit the front page of iTunes to see the featured idols.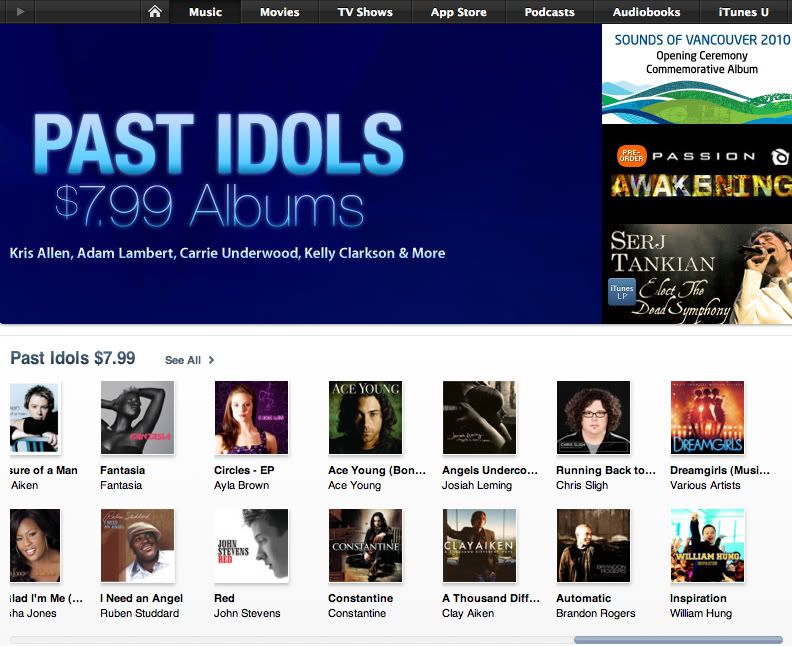 Brandon Roger's new music video for "Joy" is now featured on the official website for American Idol. Click here to see the feature and you can also stream the video from the site below.
Check out Brandon Rogers and his feature on the front page of American Idol's official website. They are currently showcasing a handful of photos from live performances and more! Click here to visit their website.
If you are in the Reno, NV area today be sure to check out Brandon Rogers judge/perform at the Artown Reno Idol competition at the El Dorado Casino & Hotel from 5:30-8:00pm. For more information click here.
Yahoo! Music has posted a new article featuring Brandon Rogers and other American Idol alumni reacting to the death of Michael Jackson. Click here to view the write-up.
Authentik Artists is deeply saddened to hear of the loss of one of the greatest musical talents the world has seen. You are loved, missed and the original Authentic (sic) Artist.
Brandon Rogers grew up in Altadena, CA, a quiet suburb just outside Los Angeles. Though his first group, Sounds Of Harmony, failed to be his ticket to superstardom, he has embarked on a unique journey that few could dream of. He has toured the world and shared the stage alongside iconic pop superstars including Michael Jackson, Christina Aguilera and Anastacia. He was a a crowd favorite and emerged as one of the TOP 12 Finalists in American Idol's Season Six Finale seen by over 35 million viewers. In 2008, Brandon's new music came to the attention of friend and Authentik Artists CEO Scott Austin who quickly signed him to a recording deal. His debut single "Broken" was released August 19, 2008 and has received numerous features and critical praise due to the very heartfelt and timely message of the song's lyrics. Brandon is excited to share his new music with all of his adoring fans.
Automatic Click to buy on iTunes
Automatic Click to buy on Amazon.com
Brandon Rogers has been having a busy week already with his non-stop coverage of the American Idol Finals in Los Angeles, CA at the Nokia Theater. While there Brandon has been working as a co-host on TV Guide Network's Idol Tonight and acting as a special correspondent for countless Top 40 radio stations around the nation. Support Brandon and his new single "Joy" by calling your local Pop station and requesting the track to be played on the air.
For those who haven't heard "Joy" you can hear it on his Myspace page here. His new album Automatic hits online retailers next Tuesday, May 20th.